Ontario Black Bear Hunting at Black Bear Adventures
THE SPRING BEAR HUNT
IS BACK IN ONTARIO!!
It's beeen 18 years since the last hunt, but it's back! Come on and participate in the exclusive Ontario Spring Bear Hunt available to a limited number of hunters, first come, first serve !!
2019 FALL HUNTING DATES
AUGUST 17 - AUGUST 24
AUGUST 24 - AUGUST 31
AUGUST 31 - SEPTEMBER 7
SEPTEMBER 7 - SEPTEMBER 14
2019 SPRING BEAR
HUNTING DATES:
MAY 25-JUNE 1
JUNE 1 - JUNE 8
JUNE 8-JUNE 15
Fully Guided Price:
$3400.00
Meal, tags, taxes included.
Non hunters $ 600.00
Meals non hunters $300.00
If you are an Ontario Black Bear hunting enthusiast or an Ontario Moose hunter, you need not look any further than Black Bear Adventures, a black bear and moose hunter's paradise, located in Thunder Bay, Ontario. We will take you on an adventure of a lifetime!
At Black Bear Adventures, we offer various outdoor activities such as Ontario Moose Hunting, Fishing and Outdoor Recreation Services. Please select a link below or scroll down for more information on our black bear hunting.
---
Black Bear Hunting in Ontario
Our Ontario Bear Hunting area is 1.7 million acres where we run over 90 bait stations, to ensure a quality personal second to no one opportunity at that Pope and Young or Boone and Crocket Record. Over the past 10 years, we have taken over 56 Pope and Young record book bears.
When you arrive at your site you will discover a 55-gallon barrel used for baiting. We take great pride in feeding our bears a quality diet of meat scrapes and donuts to ensure these animals stay close to the area and reach their full potential in size and weight. We believe in using a battery of scents to be certain these beasts will not miss our tasty treats. All our baits are at least five miles apart; this prevents the bruins from working numerous baits at the same time. This strategy results in trophy bears on each site. All our baits have anywhere from two to ten bears working them. We bait every day and begin three to four weeks before any of our hunter's arrivals.
We run an exclusive lake hunt guaranteed to be nothing like you have experienced before. This is not for the timid and is certain to keep you coming back for more year after year. We also run a percentage of our baits in areas accessible only by road as well. We provide all bait, transportation, accommodation, tracking, retrieving, skinning, cape care, butchering, and freezing.
At Black Bear Adventures, we strive to ensure your hunt is a positive experience. We achieve this goal by providing a comprehensive seminar on black bear habits, how to judge size and determine the sex of a black bear and most importantly, safety.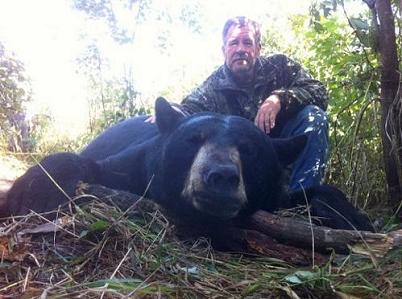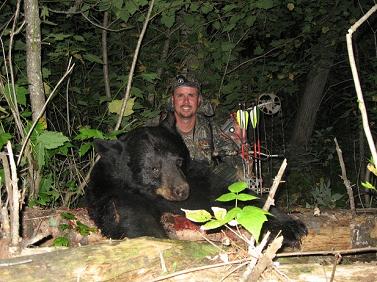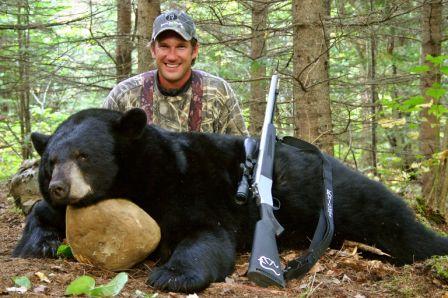 ---
Ontario Moose Hunting
Often frequenting river banks and marshy areas, taking on this massive "deer of the north," Moose Hunting is sure to thrill and excite. For many hunters, a large bull is considered a hunt of a lifetime! Their distinct antler rack often be seen hanging outside lodges and is a sign of expertise and skill. At Black Bear Adventures, we offer prime land for Canadian Moose Hunting alongside semi guided archery or rifle hunting packages.
Our Moose Hunting Packages include;
Archery Moose Hunting
Semi Guided Archery Moose Hunting
Rifle Moose Hunting
Accommodations are also available. To learn more about Black Bear Adventures "Moose Hunting in Ontario" packages, visit our "Trophy Ontario Moose Hunting" page.
---
Ontario Black Bear and Moose Hunting Videos:

Contact Dog Lake Resort
Toll Free 1-800-466-0918
(807) 933-4407
(807) 767-1809