Dining At Its Finest for Ontario Black Bear Hunters
We always make sure our hunters eat well! After a long day of hunting for your trophy Ontario moose or bear, come and relax in our warm and cozy Log Cabin Dining Room.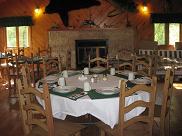 The Log Cabin Dining Room is where all our mouth watering meals are prepared and served for our hunters who choose the "meal plan". Our chef prepares homemade meals with your dining pleasure in mind, from hearty breakfasts to lavish fares such as prime rib of beef for dinner.
We welcome you to come out, relax, and enjoy your favorite beverage in our licensed facility, exchanging stories about the day's hunting adventures!
Black Bear Adventures is your ideal all-inclusive resort location for Ontario black bear hunting, Ontario moose hunting and fishing!
---
For more information about our Ontario hunting or fishing, contact Dog Lake Resort
Contact Dog Lake Resort
Toll Free 1-800-466-0918
Summer (807) 933-4407
Winter (807) 767-1809